Jurassic World: Dominion Dominates Fandom Wikis - The Loop
Play Sound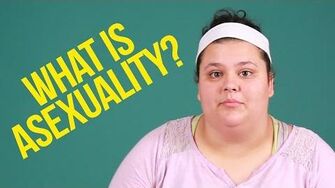 Asexuality [1][2][3] is the lack of sexual attraction to anyone or low or absent interest in sexual activity.[4][5][6] It is one of the many sexual orientations, alongside heterosexuality, homosexuality, bisexuality.[7][8][9], etc. A study in 2004 placed the prevalence of asexuality at 1% in the British population.[7][10]
Asexuality is distinct from abstention from sexual activity and from celibacy,[11][12] which are behavioral and generally motivated by factors such as an individual's personal or religious beliefs.[13] Sexual orientation, unlike sexual behaviour, is not a choice. [14] Some asexual people engage in sexual activity despite lacking sexual attraction, because asexual people can still like sex and most asexual people still have a libido. They also might do so to please romantic partners or a desire to have children.[6][11]
Acceptance of asexuality as a sexual orientation and field of scientific research is still growing, though it is generally accepted. However, aphobia or acephobia, which is the discrimination against asexuals, does indeed exist. Many members of the medical and psychology community often label asexuality as a hypoactive sexual desire disorder.
Various asexual communities have started to form since the advent of the World Wide Web and social media. The most prolific and well-known of these communities is the Asexual Visibility and Education Network (AVEN), which was founded in 2001 by David Jay and has its own wiki here.[9][15]
References