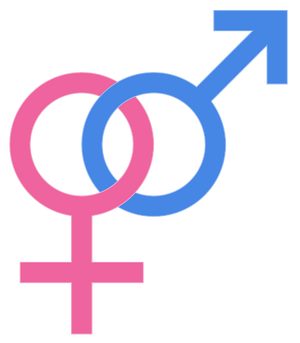 Heterosexuality is romantic attraction, sexual attraction or sexual behavior between persons of opposite sex or gender. As a sexual orientation, heterosexuality is "an enduring pattern of emotional, romantic, and/or sexual attractions" to persons of the opposite sex; it "also refers to a person's sense of identity based on those attractions, related behaviors, and membership in a community of others who share those attractions."
Heterosexuality is one of the three main classifications of sexual orientation along with bisexuality and homosexuality, which are each parts of the heterosexual–homosexual continuum. However, some authorities feel that limiting sexual classification to a linear representation does not reflect the width or depth of sexual attraction and behaviour.
The term heterosexual or heterosexuality is usually applied to humans, but heterosexual behavior is observed in all mammals and in other non-human animals. The word heterosexual is etymologically formed by adding the combining form of Greek έτερος heteros (meaning "different" or "other") as a prefix to "sexuality".