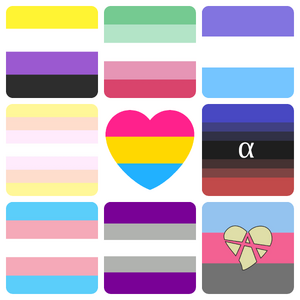 Sexual orientation is an enduring pattern of romantic or sexual attraction (or a combination of these) to persons of the "opposite" sex or gender, the same sex or gender, or to both sexes or more than one gender. These attractions are generally subsumed under heterosexuality, homosexuality, and bisexuality,[1][2] while asexuality (the lack of sexual attraction to others) is sometimes identified as the fourth category.[3][4][5][6] These categories are aspects of the more nuanced nature of sexual identity.[1] For example, people may use other labels, such as pansexual or polysexual,[7] or none at all.[1] According to the American Psychological Association, sexual orientation "also refers to a person's sense of identity based on those attractions, related behaviors, and membership in a community of others who share those attractions".[1][8]
The term sexual preference largely overlaps with sexual orientation, but is generally distinguished in psychological research.[9] A person who identifies as bisexual, for example, may sexually prefer one sex over the other.[10] Sexual preference may also suggest a degree of voluntary choice,[9][11][12] whereas the scientific consensus is that sexual orientation is not a choice.[13][14][15]
There is no consensus among scientists about why a person develops a particular sexual orientation.[1] Many scientists think that nature and nurture – a combination of genetic, hormonal, and environmental influences – factor into the cause of sexual orientation.[1][16] They favor biologically-based theories,[16] which point to genetic factors, the early uterine environment, both, or the inclusion of genetic and social factors.[14][17] There is no substantive evidence which suggests parenting or early childhood experiences play a role when it comes to sexual orientation;[14] when it comes to same-sex sexual behavior, shared or familial environment plays no role for men and a minor role for women.[17] Research over several decades has demonstrated that sexual orientation ranges along a continuum, from exclusive attraction to the "opposite" sex to exclusive attraction to the same sex.[1]
Sexual orientation is reported primarily within biology and psychology (including sexology), but it is also a subject area in anthropology, history (including social constructionism), and law,[18] and there are other explanations that relate to sexual orientation and culture.
==References++
↑ 1.0 1.1 1.2 1.3 1.4 1.5 1.6 Sexual orientation, homosexuality and bisexuality. American Psychological Association. Archived from the original on

August 8, 2013

. Retrieved on

August 10, 2013

.
↑ Sexual Orientation. American Psychiatric Association. Archived from the original on

July 22, 2011

. Retrieved on

January 1, 2013

.
↑ Asexuality: Classification and Characterization (August 2004) http://www.kinseyinstitute.org/publications/PDF/PrauseGrahamPDF.pdf
↑ Asexuality gets more attention, but is it a sexual orientation? (November 2005)
↑ Sex and Society Marshall Cavendish http://books.google.com/books?id=aVDZchwkIMEC&pg=PA82
↑ Toward a conceptual understanding of asexuality http://cat.inist.fr/?aModele=afficheN&cpsidt=18172400
↑ Becoming Visible: Counseling Bisexuals Across the Lifespan Columbia University Press http://books.google.com/books?id=1pCKkZmBU1EC&pg=PA9
↑ Page 30 Case No. S147999 in the Supreme Court of the State of California, In re Marriage Cases Judicial Council Coordination Proceeding No. 4365(...) - APA California Amicus Brief — As Filed (PDF) 33 n. 60 (p. 55 per Adobe Acrobat Reader);citation per id., Brief, p. 6 n. 4 (p. 28 per Adobe Acrobat Reader).. Retrieved on

March 13, 2013

.
↑ Sexual identity development among lesbian, gay, and bisexual youths: Consistency and change over time
↑ The republic of choice: law, authority, and culture Harvard University Press http://books.google.com/books?id=Z6iYwTFY5mIC&lpg=PA92
↑ Sexual revolutions: psychoanalysis, history and the father Taylor & Francis http://books.google.com/books?id=d3s_vH5YV-gC&lpg=PA49
↑ Sexual orientation and adolescents (June 2004) http://pediatrics.aappublications.org/content/113/6/1827.long
↑ 14.0 14.1 14.2 Submission to the Church of England's Listening Exercise on Human Sexuality. The Royal College of Psychiatrists. Retrieved on

13 June 2013

. Cite error: Invalid <ref> tag; name "rcp2007" defined multiple times with different content
↑ Sexual Hormones and the Brain: An Essential Alliance for Sexual Identity and Sexual Orientation (authors are of Netherlands Institute for Neuroscience, of Royal Netherlands Academy of Arts and Sciences) (author contact is 2d author) (vol. 17 is Sandro Loche, Marco Cappa, Lucia Ghizzoni, Mohamad Maghnie, & Martin O. Savage, eds., Pediatric Neuroendocrinology).
↑ 16.0 16.1 Sexual orientation and adolescents (June 2004) http://pediatrics.aappublications.org/content/113/6/1827.long
↑ Controlling Desires: Sexual Orientation Conversion and the Limits of Knowledge and Law (1999) http://www-bcf.usc.edu/~usclrev/pdf/072502.pdf
Community content is available under
CC-BY-SA
unless otherwise noted.